Machine Polishing / Paint Correction
Machine Polishing and Paint correction experts.
Let Prestige Shine show you just how good your car really can look.
Maintaining a car's paintwork to stay in immaculate condition is a time consuming as well as a laborious job. It often creates swirls from poor washing techniques, scratches from plants, acidification from bird droppings as well as even marks caused by industrial fallout. 
Removing these defects by hand can be particularly labour-intensive. Some of these issues can not be gotten rid of without the intervention of a Machine Polish. Prestige Shine Sunshine Coast Car Detailing have you covered for all your Machine Polishing needs.
Car polishing Sunshine Coast
Prestige Shine are the leaders in cut & polishing all types of vehicles.
Machine Polishing up has ended up being extra appealing for vehicle care enthusiasts. With enhancements in innovation and also materials, the process is extra simple for the beginner to accomplish magnificent outcomes. 
Nevertheless, individuals might lack the self-confidence or time to take on the job of Machine Polishing. Not knowing the techniques can leave more damage to the surface of the automobile than what it had beforehand! Reach out to the professional today as we are fully insured and ready to make your car shine like new again!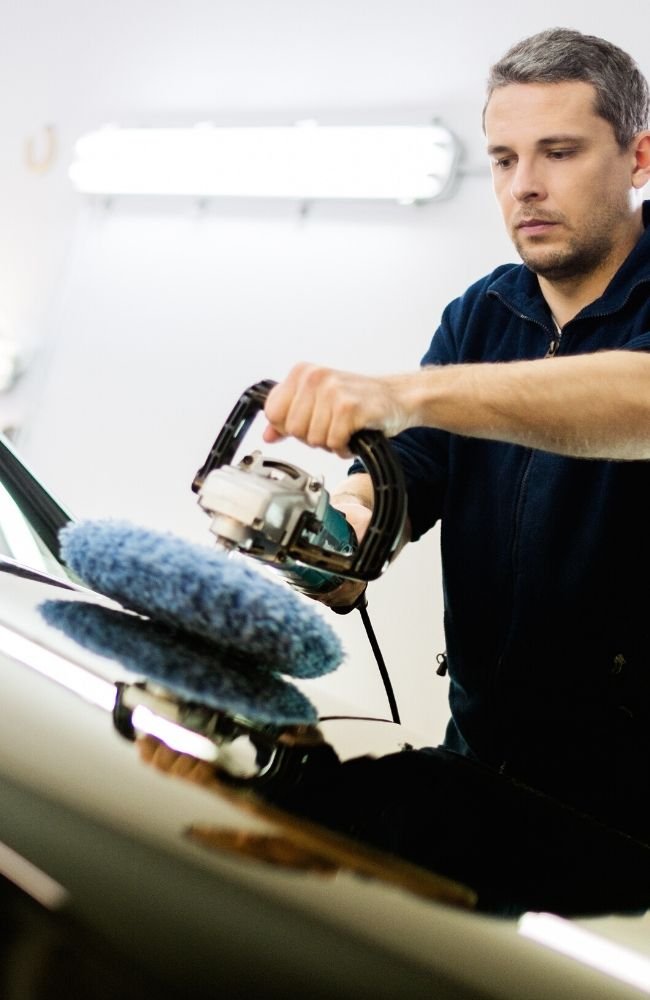 COMMON PAINT FLAWS requiring machine polishing
Paint defects have numerous components, as well as they all possess the possible to influence different layers in the total paint coating. Here's a glimpse at the different sorts of common paintwork issues.
 Arising from the pollutants located in tap water.
Also recognised as barrier traces, insufficient equipment polishing approaches create them. They look like obscured round shadows causing a horrible as well as dull look.
Likewise identified as scrubbing swirls as the majority of this type of blemish takes place as an outcome of reckless washing and drying procedures. They are light 'spider web' marks in the clear layer of paint. Significant instances are generally a consequence of the tough brushes used in some older car wash in Sunshine Coast
Etching can be visible as traces left externally of the paint yet might have gone through to the base layer. These generally take place as a consequence of bird droppings. Bird droppings bring Uric Acid, a material that will chew into a layer of wax or paint sealer as well as start to engrave into the clear coat of paint. If overlooked, it could stain the base coat beneath requiring a repaint of the panel.
 Great scratches are longer than swirls; they appear like an obvious however light trail on the exterior of the clear layer.
Even more serious paint surface problems
These paint defects usually arise after years of neglect from a vehicle owner. Some can be easily repaired while some may need additional work. If you notice any of these issues, do not hesitate to call us today!
Much deeper Scrapes are caused by sand and dust moved along the paint. The seriousness of these scrapes varies substantially; some can be Machine Polished out easily. In one of the most severe situations, some deep scratches will certainly have gone through the clear layer right to the base layer or even to the metal panel.
While driving your car, small random stones turn up from the roadway and hit the paint surface at speed. This produces chips that usually remove clear coat layer as well as occasionally primer as well. Depending upon how deep the chip is, a machine polish may help in reducing the appearance, yet the crater left typically may call for a brush touch.
Oxidisation happens the sun discolours the paint. This leads the colour to display a milky or gloomy appearance. A black automobile can discolor to grey, and reds fade to a pinkish look. White paint can commonly oxidise with age, offering a milky white look.
Obtain a free quote today
Prestige Shine Sunshine Coast Car Detailing can assist with any of these concerns with our Machine Polish Service. We provide a total Mobile Car Detailing Service and also can visit you at your home or office for a convenient method to Auto Detailing. Please contact us today to receive a totally free no-obligation quote!
Get A Free car detailing Sunshine Coast Estimate Today!
Simply fill out the form below and one of our professionals will be in touch with you shortly!
Take a look at our most popular car detailing services